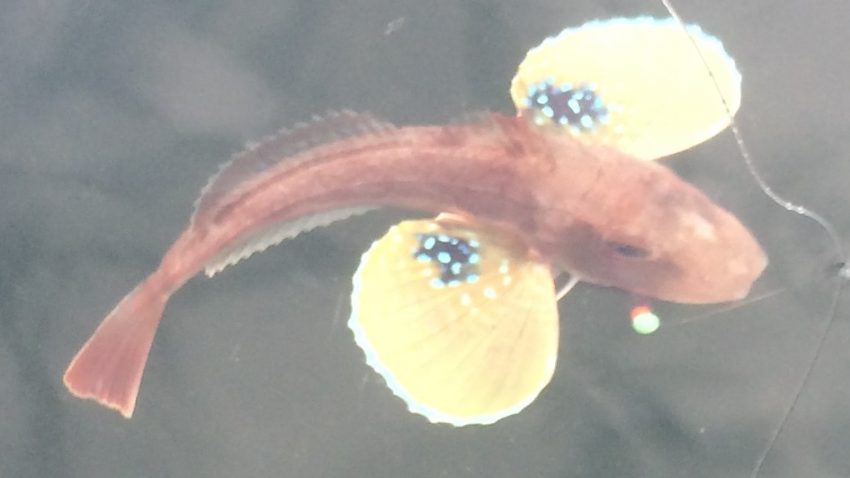 29 June 2019. On a flat calm, more than an hour after the mornings high, saw Clive Richmond and Martin Cooper readying Clive's SIB for what may well have been her last launch. The pair who joined us earlier this season, have invested in Seahog Hunter, which though requiring some refurbishment, will hopefully soon be ready for a sea trial.
As the tide fell back, the gentle breeze dropped away and though the pair didn't venture far in the inflatable, they had a good session fishing down to low water, picking up the usual suspects, including Mackerel, Thorn-back rays and Gurnard (pictured), all within sight of the clubhouse.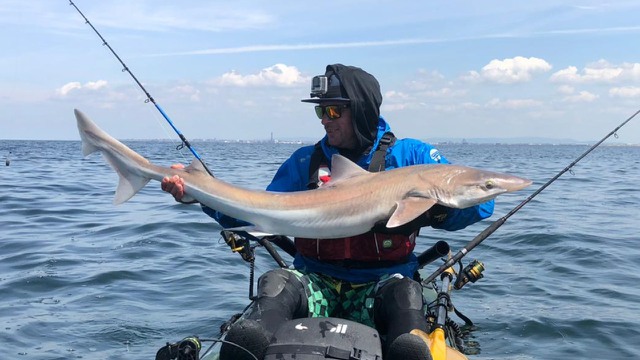 22 June 2019. First angler afloat and hours before low water was Simon Lee aboard `Mako', with his sea kayak in tow! Simon wasn't to fish the match, coming in well after the `back on the beach' time of 3:30, but tope were the order of the day and the day certainly didn't disappoint.
Alternating between `Mako' and his kayak Si boated 10 tope to 42lb. A smaller fish taken in his kayak is pictured
Well fished Si, but why get out of a perfectly decent boat?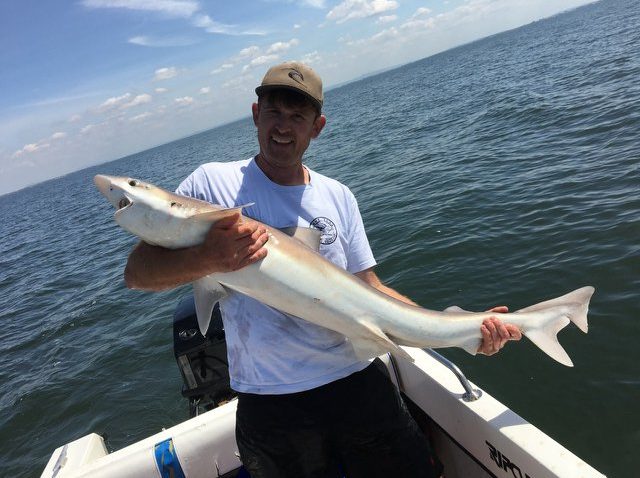 22 June 2019.  Nine boats launched on the mornings flood with high hopes of mackerel followed by a decent days toping. Best laid plans, the mackerel proved patchy and even the dabs kept their heads down for some and not all boats found the tope.
Best fish of the day and winner of the match Kristien Lee aboard his boat `Wahoo' with a pair of fish like peas in a pod weighing in at 36lb and 38lb.
Well fished Kris.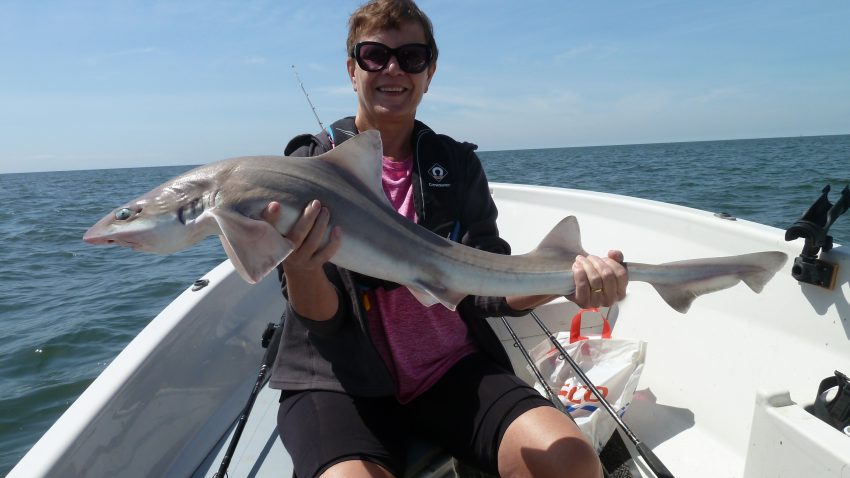 22 June 2019. Day one of the Club's Tope Weekender, an hour into the flood and after launching a half dozen boats beforehand, Alan Taylor slipped Lil' Hooker of her trailer for what was to be only her second day afloat this season.
Though it was a Tope match, with Sue aboard they decided to run north, only remembering to stop for a few mackerel as they approached Kris aboard `Wahoo' and Anthony aboard Sea Eagle who were picking up a few fish off South Pier.
With the sun shining, a few mackerel aboard and some of last season's softies in the ice box, the pair ran on up to Norbreck, before randomly dropping anchor in 23 feet of water. A crab baited 6lb class rod went over first and it probably took no longer than 3 minutes for a smut of a little over 8lb to pick it up and it was 1-0 to Mrs T.
Unfortunately, the doggies had not lost their appetite for tope baits and plagued, the pair stowed the tope rods, though inevitably given the numbers around Alan managed a pup to a crab bait. It made into a beautiful day. Almost two years since last they fished together Sue had not lost her touch and ended the tide with 19 Smooth Hound to her credit. All but one weighed in at over 7lb, including four fish between 9lb 7oz and just short of 10lb, one at 10lb 6oz and her best at 12lb 13oz.
Returning to the beach the club's ski were out in numbers, with families and friends making the most of the BBQ weather.