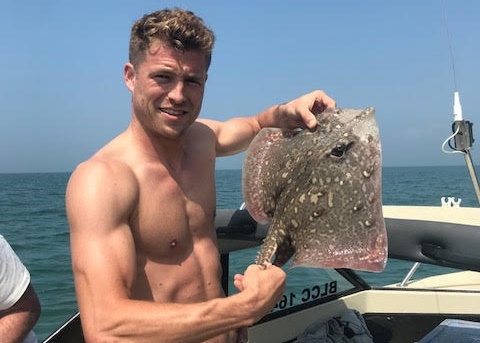 Categories:
10 June 2018.  Saw Stuart and Ryan Wilson with their guest for the day Dave Quinn readying `Chilli Pepper' at the club before slipping her into a calm and rising tide.
Six miles off their day went well and though the Mackerel didn't present in great numbers bait was not to be a problem. The better Tope turned up in numbers and the trio boated six out of the seven Tope hooked, but unfortunately lost their best fish beside the boat.
Several Thornback, Whiting, Tub Gurnard and many dogfish  featured throughout the day.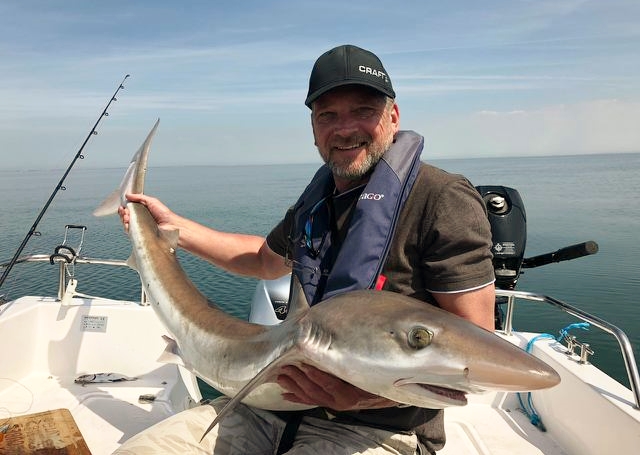 Categories:
19 May 2018. Blue skies, flat calm and red hot, perhaps not the best of weather for fishing, but nevertheless too good an opportunity to pass up. Three club boats, `Lunasea' with John Brearley and guest aboard, `Searay' with Nick Rosser and Lukasz Brylew and `Lil' Hooker' with Alan Taylor and guest Geoff Cross headed out in search of Tope.
All three set out their stall within a few hundred yards of each other. Sport was slow with only the very odd mackerel and herring coming aboard, but feathers bounced on the bottom produced Whiting and Dabs and all three boats landed 30lb plus tope. Three boated on Searay, two on Lunasea (John pictured) and just a single fish for Geoff aboard `Lil Hooker'.