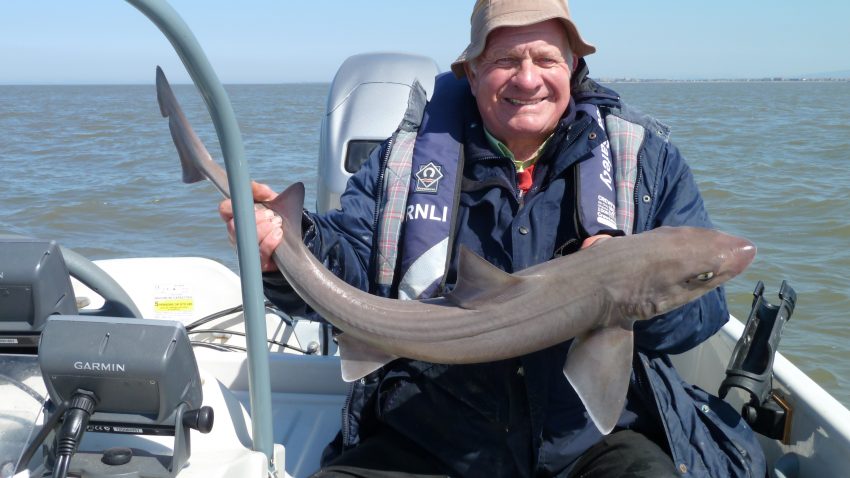 Categories:
15, 16 and 28 May 2014. Following on the heels of April's very reasonable weather May has again provided several opportunities to launch and Alan Taylor accompanied by Pete Holland on the first two days then yesterday by son Andy Taylor have made the most of it.
Day one and two saw Alan and Pete fishing the flood tide anchored in around 25 feet of water off Norbreck, marks along the Gynn wall and finally opposite the Tower. Oddly, large numbers of undersized codling remain on all marks and Pete was again in his element mix and matching these with whiting and dabs.
Alan continued in his quest to beat Andy's PB common smooth-hound of 2013 and might have done so on 16th had his trace not failed at the swivel loop to a large but unseen smut. Literally seconds later it was Pete's turn as Alan passed him his second crab baited rod and the first `double' Starry Smooth-Hound of 2014 came aboard.
Yesterday saw Andy back on board and the pair headed directly to Norbreck an hour and a half into the ebb. Anchoring in around 30 feet of dropping water reading 56 degrees they set out their stall for tope and smooth-hound and waited but after more than an hour, absolutely nothing.
At around half ebb the first of two crab baited rods arched over in its holder as a smooth-hound of around the 7lb mark set Andy's circle hook. Then more waiting, interrupted only briefly by Alan baiting with razor just to prove that there were indeed codling and dabs under the boat before the first of the two tope baits was picked up. Fish on for Andy, most certainly a tope but after a few moments of head shaking it was off. No matter within 10 minutes Alan's bait set off and their first tope of 2014 came aboard. At around the 5lb mark only a tiddler but definitely a start then all went quiet and so the pair moved off into 40 feet.
Their two tope baits attracted only dogs but as the tide dropped interest increased in their crab baits and the pair boated a further 15 smooth-hound before calling it a day half an hour before low water.