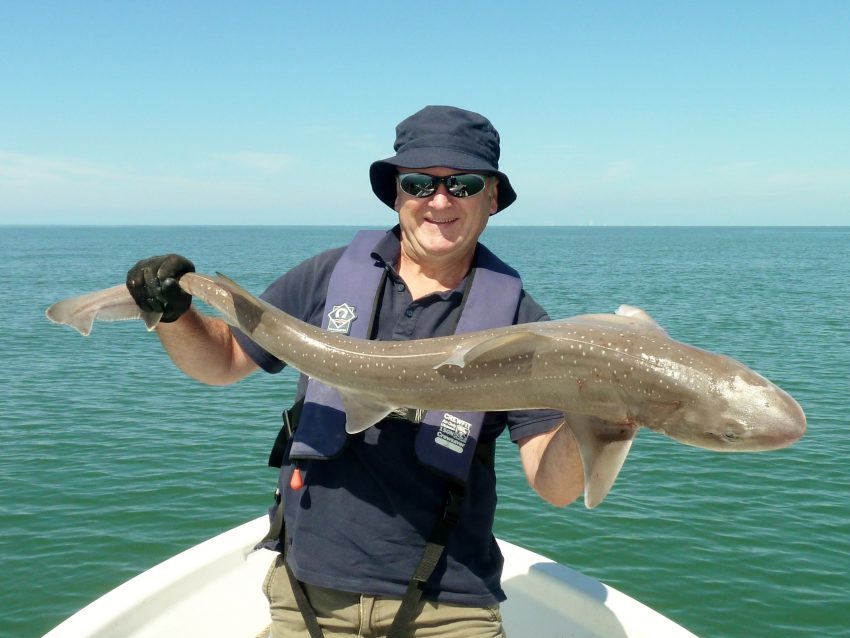 31 May 2017. With another cracking forecast Alan Taylor with cabin boy for the day Mike Jones launched Lil' Hooker on a flat calm sea just after the morning's low water. First stop, a drift in 18 feet of water, directly off the clubs where they were into mackerel straight away. With a quick two dozen in the cool box alongside the some crab they headed north in search of a `double' smooth-hound for occasional angler Mike, then possibly a tope or two.
BBAC angler Mel aboard `Shore Thing' was already anchored off the north pier as we passed and motored on to anchor on the top of a shallow stony bank in just 12 feet of water. A mark which can fish exceptionally well on low with no tide, they were hoping the flood would fish, but it was very slow. Mike did however manage a handful of smooth-hound including his much awaited `double' in not one but two starries of 11lb 1 ounce and 12lb 12 ounces, so he was well pleased.
With half the flood gone it was time for tope, so it was up with the anchor and the pair ran back south and set out their stall in 38 feet off Norbreck. An hour later `Shore Thing' moved over to join them, but after another half hour with still no action it was off to the North Pier for, but surprisingly no tope were to show.