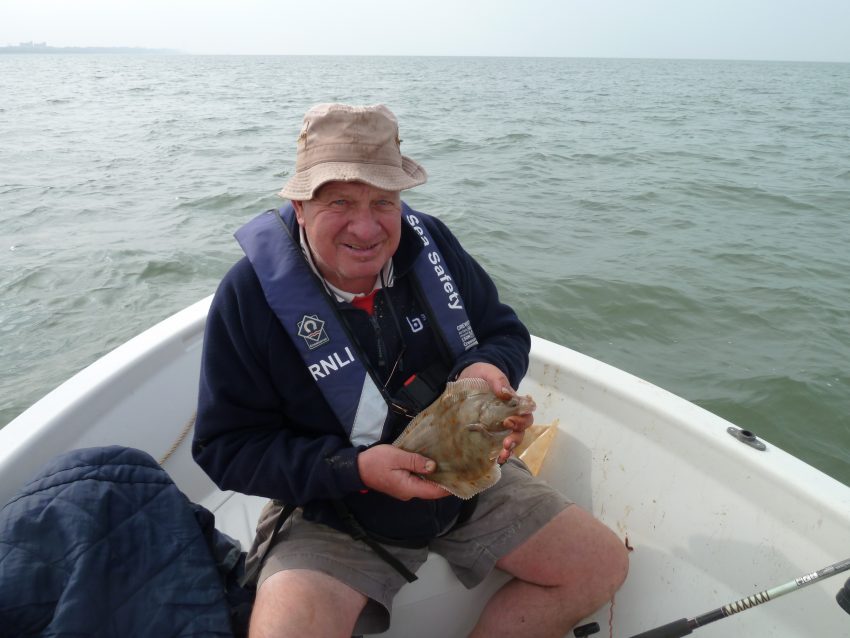 25 May 2017. With the hottest day of the year forecast, but remnants of the previous day's particularly dense sea fret still lingering, Alan Taylor and Peter Holland delayed their launch until the tide was just short of the wall.
As on their previous trip the pair head north, passing several boats fishing the North Pier area and off Norbreck, to sit squarely once more on the same mark as on their last trip.
The tide was slowing as fresh black baits went over and so a leisurely 5 hours of tanning began. Hardly an energetic session, but enjoyable and punctuated by only two doggies, the pair boated 44 plaice, though it has to be said that though most were keepers to 1lb 6oz, a fair few did go back on this occasion.
As the tide dropped and its flow slowed, Alan could stand it no longer and confessed to Pete that he had indeed brought a few crab to play with. So it was up with the anchor and a move onto some rougher and proven ground for just an hour.
With Pete bumping the bottom with baited feathers Alan set out two rods, the first setting off on a run worthy of a tope within just minutes of the second bait hitting the water. No mistaking what had taken the bait, as a lump of a fish proceeded to test the recently rebuilt reel's new carbon drag. Pete optimistically readied the net as Alan did the business, but as in many fishing tales it ends there as the circle's hold gave way a few minutes in and what was most certainly a `double' was `released' to grow even bigger.
No time for tantrums as the second rig sang out again and after a spirited tussle Alan's first `starry' of 2017 a fish just ounces short of 10lb was boated. Within just minutes rod number one was away again and after a dogged fight a good double was ushered `line wrapped' and as a result prematurely to the surface. Braid and smut skin, a bad mix and before it could be drawn close enough to net, Alan `released' that fish also, along with his swivels and lead!  
With seven smuts landed and two prematurely `released' for 10 crabs, the pair up-anchored and ran back to the North pier for a quick feather where the mackerel obliged six at a time.