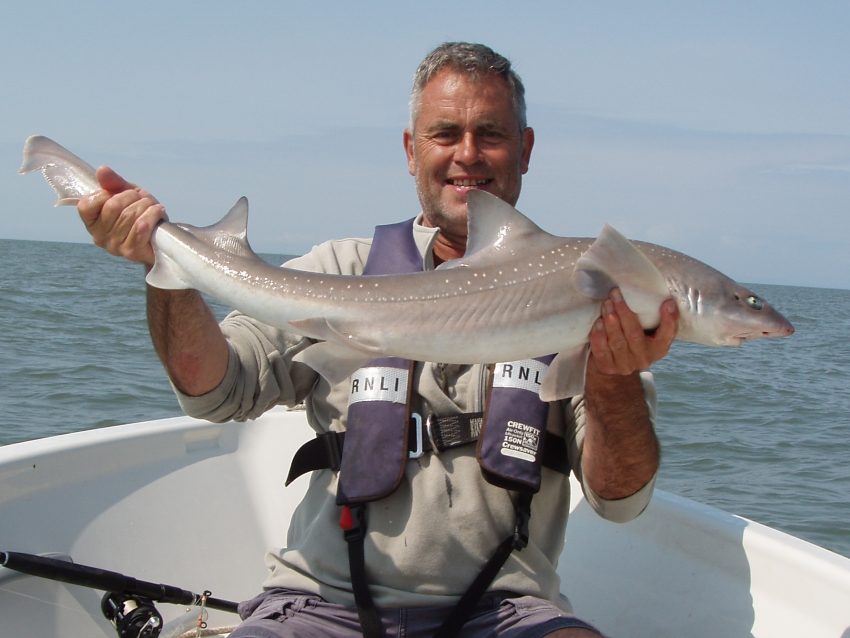 12 June 2014. Having arrived at the club two hours before high water Alan Taylor and Pete Holland sat it out with a brew whilst the edge settled down sufficiently to launch `Lil' Hooker' though once afloat an equally lively swell impeded their progress to the North Pier.
With several boats bouncing at anchor inshore and likely searching for mackerel, the pair similarly set about feathering, switching to baited feathers, crab and a dab baited tope road when the mackerel failed to oblige.
Pete lead the way dinking his feathers every now and then to pick up, smooth-hound, dab, gurnard, dogfish and a solitary mackerel. Alan fished crab on a 6lb class road and picked up smooth- hound and a solitary bull-huss of around 8lb on his dab tope bait, though twice tope cleanly nipped his bait undetected but leaving their tell-tale `cookie cutter' bite edge on what was left of the fish.
Returning to the Club two hours before low and after quick change of clothes, (he fell off the gunnel of the boat in two feet of water on beaching!) Alan re-launched with Andy aboard and it was back north again this time to sit off Norbreck.
With baited feathers bouncing the bottom, crab searching for smooth-hound and two dab baits awaiting tope the tide dropped down to low water. Codling, dab, dogfish, smooth-hound and tope came aboard, unfortunately nothing exceeding 10lb though Andy did drop a weighty tope, so he claimed as a direct result of Alan's poor dab presentation!
Shortly before 8:00 the pair wrapped up an headed back to the club. Oh joy! As dozens of seagulls worked close in between Central and South Piers, Andy ran around the shoal to drift back and with just a single set of feathers took full string after full string with a single fish of 1lb 2oz amongst them, which is a very decent mackerel for this area.