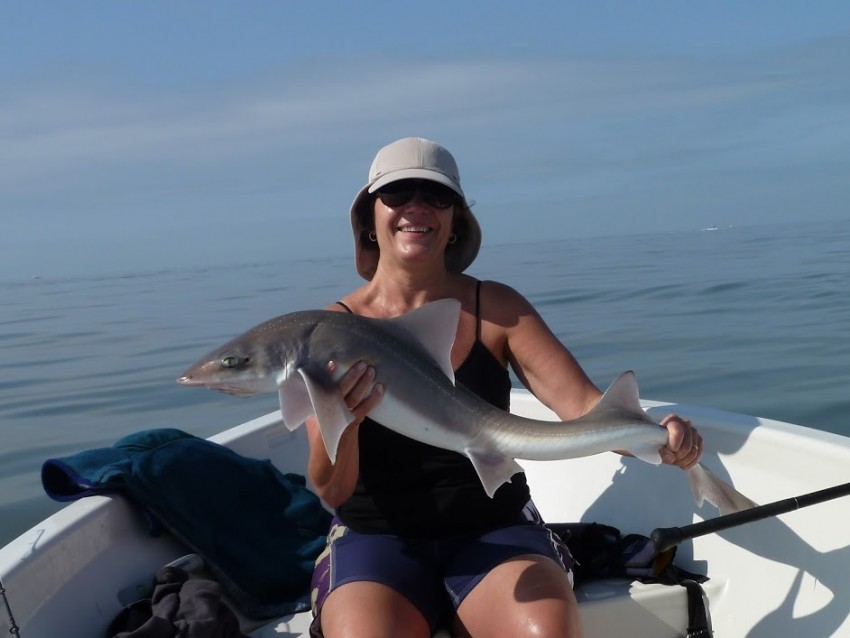 15 June 2014. With a better forecast on the cards `Lil' Hooker' with Alan with the lovely Sue Taylor aboard together for the first time this season launched on low and headed directly into just 10 feet of water off Norbreck.
With four rods over, a 6lb class rod baited with crab, two 25lb class baited with mackerel and Mrs T bouncing a set of feathers, first interest unsurprisingly came to the crab. Sue took the rod, set the hook and the smut set off at speed only to `knit one, pearl one' around the remaining three lines. Not a good start, but with lines untangled the fish was given its head and demonstrated the very best of its abilities on the light tackle as with no depth to play with it headed towards Cleveleys! An entertaining fish it made repeated runs as it was gently encouraged towards the boat by Sue before the braid gave up, likely as a direct result of its previous encounter with the other lines and a pity as the fish certainly scrapped like a `double'.
As the tide rose, the sea became more uneasy and a cool sea mist rolled in but conditions were not to put the pair or the fish off. In their brief morning's session Sue landed 14 smooth-hounds, a total which included a further two `doubles' in the shape of a 12lb 5oz starry and a 10lb 7oz common, together with five bull-huss to around the 11lb mark and a small tope in the region of just 6lb.
Though the smuts are in abundance almost everywhere it is noticeable that the better stamp of fish are more frequently picked up very close to the low water mark. Come on you beach anglers.