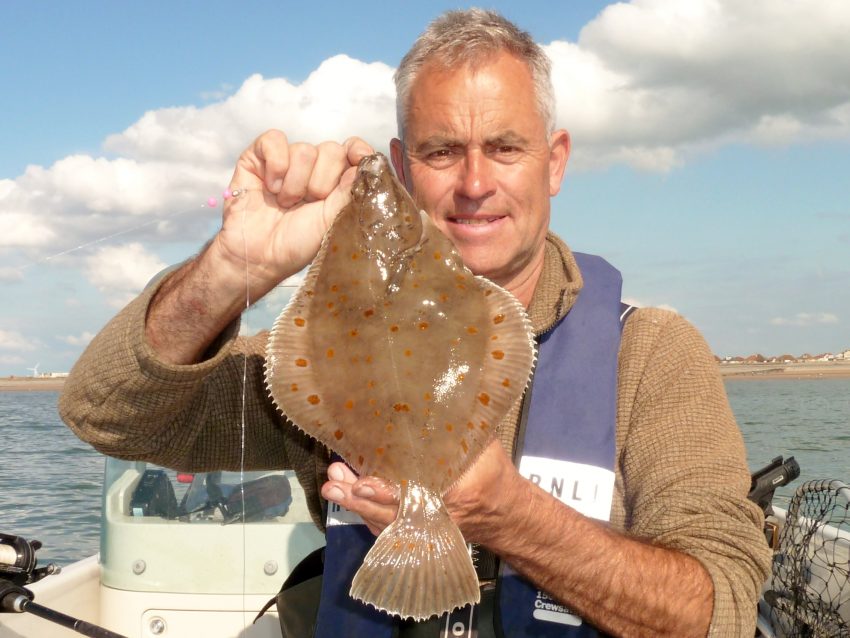 2 September 2017. Nine weeks since Lil' Hooker last slipped from her trailer and a little over two hours before the afternoon's low, Alan Taylor and Peter Holland swung past new members Piotr Dyga and his family aboard Blue Marlin, before the two boats headed north to anchor off Cleveleys in 18 feet.
On a slack 26 foot tide it was first fish to Pete Holland as he swung a dog fish aboard, followed by a small thornback and a dab, before he dropped a decent plaice on the top. So far so good, but though Pete (the seal) Dyga and his kids aboard Blue Marlin were also catching fish, Alan's crab baited rods had not so much as twitched. And so it continued as the tide dropped towards low with only odds and sods coming aboard both boats.
The plan was to sit on the mark until the tide bottomed then move inshore for an hour to see if the plaice would oblige, but with less than 15 minutes to dead low, the first of the crab baited rods set off as the smooth-hound moved in. The next half hour resulted in six smooth-hound in the 4-7lb bracket, not the better stamp of fish Alan hoped for, but nevertheless a bit of fun to catch on light gear before it was up with the anchor and a move inshore into just 10 feet of water.
With just an hour of the flood available to them the pair were not expecting much action. Just two of the targeted plaice came aboard, together with the odd dab and mandatory dog fish, but it had made a gorgeous day and they were more than happy just to be afloat again.
On a bigger tide with some movement in the water it may well have been a very different story, so its fingers crossed then for a few calm days before the month ends.