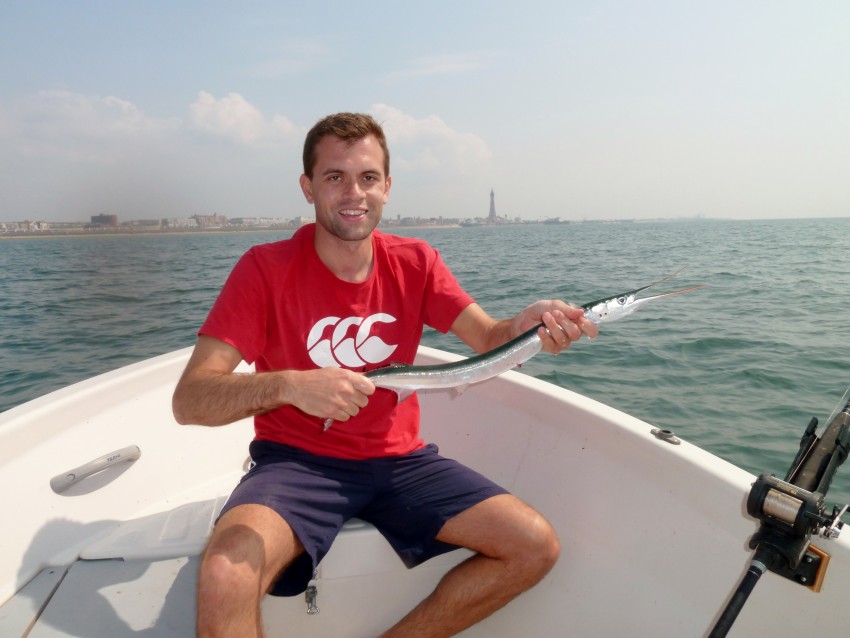 28 May 2016. A reasonable forecast saw Alan Taylor  launching `Lil' Hooker' for the fourth time this season about an hour into the flood, with crew Andy Taylor and his older brother James back home for the holiday weekend.
Tope and Smooth-Hound were to be the order of the day and there were a good few boats already anchored up as they ran past the North Pier to drop anchor in just 14 feet of water reading 55 degrees in the Norbreck area.
As expected the small tide, lack of run and bright conditions were perhaps not the best to fish the shallow ground the big hounds like, but they could but try. After a very quiet two hours with just two Smooth-Hounds to show for their efforts the trio headed out to a `banker' mark in 35 feet of water where there was rather more action, albeit with lesser quality fish and strangely no sign whatsoever of tope.
A quick feather on the way in off the North Pier yielded no mackerel, but a surprise garfish, species number 19 fell to the feathers.
The day ended with a dozen Smooth-Hound to about the 7lb mark, a couple of Bull Huss, Codling, Dogs, Dabs and the `pointy one'